Waterfalls and Water Scenes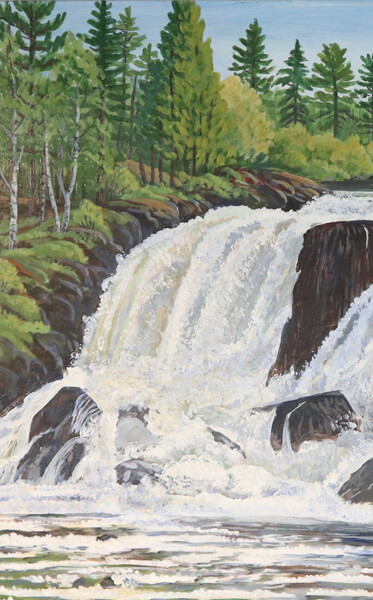 Waterfalls and water scenes are a favourite subject of artists and photographers. Thursday, August 12th, 2 to 4 pm our exhibit in the green space beside the Library will feature waterfalls and water scenes by Elsa Kosola, Mary Bordynuik, Elaine Kryzanowski, and Margaret Jean Monkhouse. Each had their own method of capturing light, dark shadows, and water.  Photographers have the advantage of making technical adjustments with lens and speed to capture flowing water and waterfalls which are especially challenging. Searching through photographs of Quetico Park by Jon Nelson, Gary and Joanie McGuffin, is a lesson in the art of photography. Nelson's "Rising sun at the base of the rapids at Prairie Portage" captures early morning. In the McGuffin's book they photographed evening light spreading over the lower end of Have-A-Smoke portage at Keats Lake. 
Lakes and waterways are a source of endless fascination for artists. The force of the water tumbling over rocks, the sense of energy, or the quiet rippling of streams and rivers. Niagara Falls, straddling the United States/Canadian border attracts 14 million visitors every year. Some waterfalls have legends associated with them like Kakabeka Falls, where visitors learn about Princess Green Mantle. The daughter of an Ojibwa chief, she sacrificed her life to save her people from an attack by the Sioux. Little Falls is a favourite spot for locals and travellers, and an ideal place to enjoy the natural beauty of the setting. In our collection we have a photograph labelled "Big Falls." The note attached states that Big Falls was near the south-east arm of Steep Rock Lake, harnessed in 1925 by Ontario-Minnesota Power Company. I'm guessing that the designation of big and little falls was created locally in the 1930s and 1940s. The names simply meant the falls on the Atikokan River or the falls on the east arm of Steep Rock Lake.
There are two paintings by "Markell" in the Museum collection and no records to tell us about the painter. One painting includes the sign for Leishman's Pharmacy, which was at 208 O'Brien Street according to our records. Visible in the distant background is the dome...