First Ford Car in Atikokan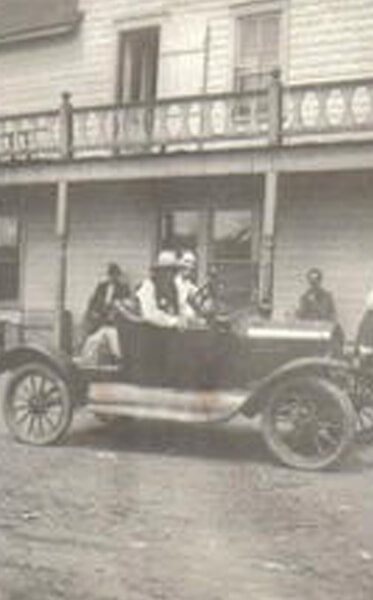 Mr. C. W. Palmer driving his car in front of the Atikokan Hotel, June 1921
The poem, "For Sale" transcribed below, is from a hand written document, a faded piece of lined paper, likely taken from a "scribbler". The distincitive writing, in faded India ink, is composed in numbered stanzas, with Roman Numerals. The poem is concluded with a flourishing mark. The poem was donated by Bob Clarke, one of the first owners of the Atikokan Progress. It is likely that he rescued if from distruction, recognizing its place in local history. He donated it to the Museum in 1968. Here for your amusement from an unknown Atikokan poet.
For Sale
I           One Ford car with a piston ring.
Two rear wheels and open front spring
Has no fenders, seat or plank.
Burns lots of gas and Smithy says is hard to crank.
II          Carburetor busted half way through
Engine missing hits on two
Three years old, four in the spring
Has shock absorbers on everything
III         Radiator busted, sure does leak
Differential dry, you can hear it squeak
Ten spokes missing, front all bent
Smithy say. G.-D.- the thing it wont pay the rent.
IV         Got lots of speed runs like the deuce
Burns either lemonade or tobacco juice
Tires all off, runs on the rims
A hell of a good old Ford for the shape she in.
With apology to Mr. C. W. Palmer
Mr. C. W. Palmer brought the first car to Atikokan in 1921, which he purchased in Winnipeg for $50.00, approximately $671.32 in 2021. It was still in use to deliver groceries as late as 1942 from his store at the corner of White and Front Streets. It seems this car was the talk of the town, and no doubt could be heard from a distance. Preserved by an unknown poet, and an unclear 1920s photograph, Atikokan's piece of Ford vehicle history!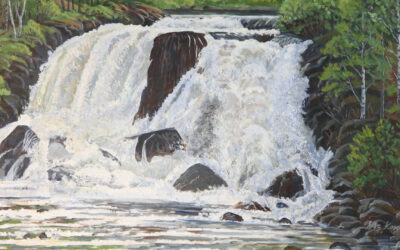 Waterfalls and water scenes are a favourite subject of artists and photographers. Thursday, August 12th, 2 to 4 pm our exhibit in the green space beside the Library will feature waterfalls and water scenes by Elsa Kosola, Mary Bordynuik, Elaine Kryzanowski, and...