Mystery Painter and a Favourite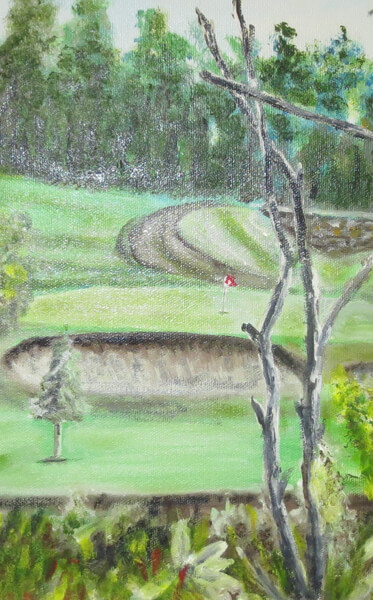 There are two paintings by "Markell" in the Museum collection and no records to tell us about the painter. One painting includes the sign for Leishman's Pharmacy, which was at 208 O'Brien Street according to our records. Visible in the distant background is the dome of the chapel on MacKenzie Avenue. It appears to be painted with oil pastel from a high vantage point. The distinctive painting style continues with the second painting, a scene from Steep Rock Iron Mine. Somebody, somewhere must know the mystery painter, "Markell".
Jim Hunter joined Caland Ore Company as Garage Foreman. He spent 25 winters in Palm Springs, golfing, one of his favourite pastimes. The other was painting. On 2002 he presented Paulette Nelson with a painting of number 6 hole of Little Falls Municipal Golf Course to congratulate her "hole-in-one." Imagine a dedicated golfer painting the scene above, then visit the open-air exhibit Thursday, 29th July, 2 – 4 pm to see the same scene painted by Jim Hunter almost two decades earlier.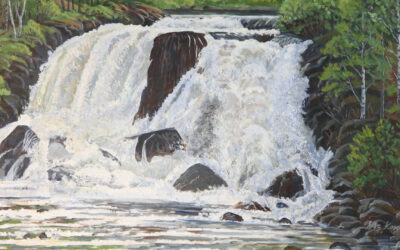 Waterfalls and water scenes are a favourite subject of artists and photographers. Thursday, August 12th, 2 to 4 pm our exhibit in the green space beside the Library will feature waterfalls and water scenes by Elsa Kosola, Mary Bordynuik, Elaine Kryzanowski, and...