Fresh look for Ontario Heritage Trust Plaque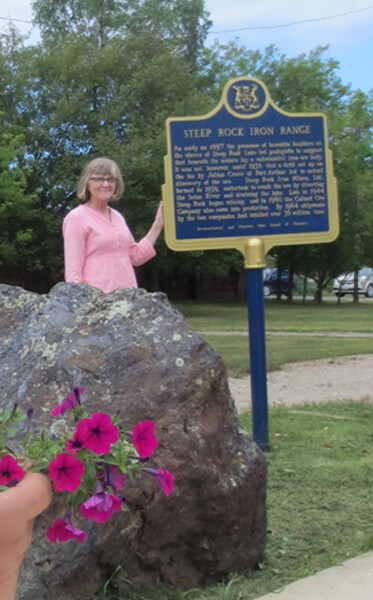 The Archaeological and Historic Sites Board of Ontario marker for Steep Rock Iron Range was faded and weather beaten. When contacted Ontario Heritage Trust provided the necessary information and permission to restore the marker. Historical markers serve to educate and celebrate Ontario history. Nancy Kozlovic, Museum Assistant patiently waited for the necessary weather conditions to revive this plaque; no rain, not too hot or humid, no wind and sufficient drying time between paint applications. Her reward for all this tedium came when the metallic brass letters and the border were finished. With fresh coats of paint and careful work the once faced marker is completely renewed. Many pedestrians commented on the work as it progressed.
 The marker summarizes Atikokan's iron ore mining history. 
"As early as 1897 the presence of hematite boulders on the shores of Steep Rock Lake led geologists to suggest that beneath its waters lay a substantial iron ore body. It was not, however, until 1938 that a drill set up on the ice by Julian Cross of Port Arthur led to actual discovery of the ore. Steep Rock Iron Mines, Ltd., formed in 1939, undertook to reach the ore by diverting the Seine River and draining the lake. Late in 1944 Steep Rock began mining, and in 1960 the Caland Ore Company also came into production. By 1964 shipments by the two companies had totalled over 33 million tonnes." 
The museum's mission is to enrich the quality of life in the community by helping residents and visitors appreciate and understand our local heritage. Visitors this summer will note that the iron mining exhibit is undergoing revision. Fresh coats of paint, and Nancy's attentiveness in preparing exhibit materials makes a visit to the museum a rewarding experience. Even visitors who have lived their lives in Atikokan enjoy the exhibits and see their history from a whole new vantage point. The museum is air-conditioned and easily accessible at ground level.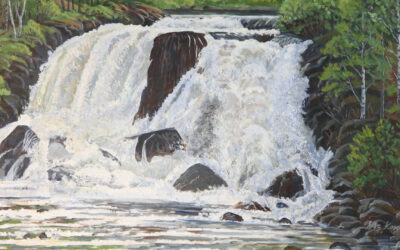 Waterfalls and water scenes are a favourite subject of artists and photographers. Thursday, August 12th, 2 to 4 pm our exhibit in the green space beside the Library will feature waterfalls and water scenes by Elsa Kosola, Mary Bordynuik, Elaine Kryzanowski, and...