Shed Rec a painting by Mari (Mary) A. Hegler 1915 – 2010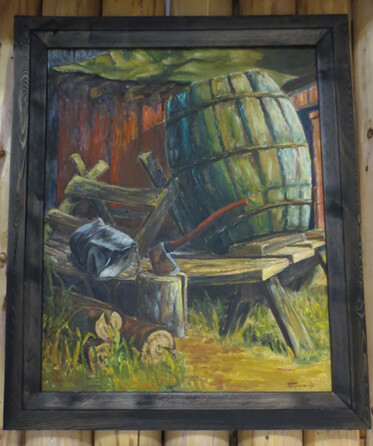 The experience of living in the north has inspired many residents to express the profound affect of their surroundings in various media. Shed Rec is an inspired painting. The vibrant colours, and the rustic content takes the visitor's mind to remote work camps and manual labour. This painting provides the setting for the teacher-labourer part, in our latest exhibit, Inspired Teaching.
Mari Hegler, a former resident of Atikokan was an artist of some renown. She was an active member of the Atikokan art community in the 1950s and early 1960s. Mari instructed in watercolour, oil painting, silk screening and creative writing. Mari and Watt Hegler lived in Atikokan for eight years, he was the superintendent of the Errington Mine. The idea to focus local artistic talent on the mines may have originated in their home, 25 Birch Road. The first Art Club Exhibit, documented in the Steep Rock Echo, 1958, featured nine paintings commissioned by Steep Rock Mine. The paintings graced the halls of the mine office. Six paintings are in the museum's collection.
Truly an inspired teacher, Mari's work is in many homes throughout the world, and two embassies. She was commissioned for an oil painting of the Canadian Service Ship, Nova Scotia, 1981. Mari designed the 35-foot totem pole which stood at Quetico Centre, 1962 to 1984. The "angelic" mural in the chapel on MacKenzie Avenue is a glorious example of her imaginative talents. She also had a short TV painting series on local cable in Kingston. The inspiration to capture our surroundings continues in this community. The Pictograph Gallery features regular exhibits. Mari, whose "busy brush" left memorable work, would approve.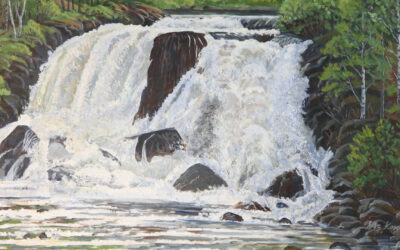 Waterfalls and water scenes are a favourite subject of artists and photographers. Thursday, August 12th, 2 to 4 pm our exhibit in the green space beside the Library will feature waterfalls and water scenes by Elsa Kosola, Mary Bordynuik, Elaine Kryzanowski, and...