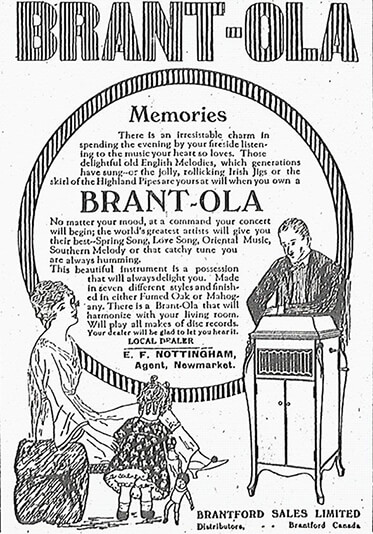 Without music, life would be a mistake
–Fredrich Nietzsche, Twilight of the Idols
Imagine the excitement, the sheer headiness of playing music on a phonograph in the 1920s! A favourite recording at your finger tips. No need to learn the music, master the skill of playing an instrument or rely on someone else to provide music. Just crank the handle until the disc recording is cycling at a steady place and place the needle on the disc. (The music probably faded as the recording played).
Before radio and television, the only recorded music was played on a phonograph. Entertainment of the Victorian era is hard to imagine with only photographs for reference. Evenings found families gathered around parlour organs to sing hymns and sentimental ballads. Home entertainment was play cards, parlour games, reading books and visiting.
Thomas Edison thought the phonograph was his greatest invention, easy enough to understand as it brought joy to many. This phonograph was created by Brant-Ola, Brantford, Ontario. Simply and elegantly designed with storage space in the cabinet, it would be a fashionable and much sought after addition to a 1920s parlour. Resting in a corner of the community room of the Museum it is one of our treasures. The phonograph fits with Atikokan history, the early years as a Divisional Point on the Canadian National Railway.
Which do I consider my greatest invention? … I like the phonograph best … because I love music. And then it has brought so much joy into millions of homes all over this country, and indeed, all over the world.
– Thomas Edison, American Magazine, January 1921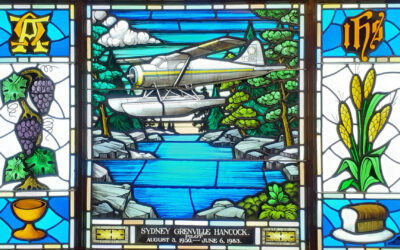 The latest addition to the Writer's Nook in the Museum of Atikokan is a beautiful stained-glass window. The window is illuminated by a specially constructed cabinet to accommodate LED lighting with a diffusion layer, crafted by Dutka Signs. This beautiful window...